90-Ball Bingo
The 90-ball bingo game is available in Flash (no download version). The lobby is easy to navigate with attention on promotions, wins and bonuses.
Free bingo games and impressive progressive jackpots are featured.
Have a look at the game with this video: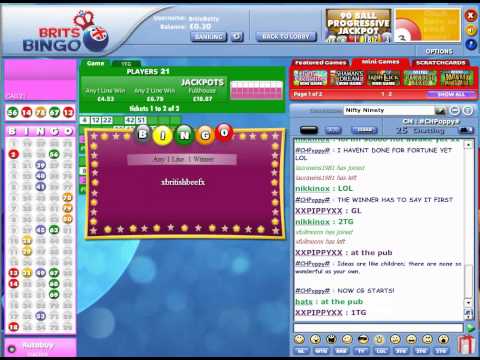 The screen will prompt you that the game is about to begin. The game screen will display your purchased cards in batches of 12. You can scroll between cards by clicking the left and right arrow buttons located at the top of the card area. The current batch of cards is also displayed as, for example "cards 1-6 of 12″. The top of the screen displays the number of people playing and current jackpot of the game.
The graphics are rich with focus on high quality performance. The player is given the sensation of playing up close and personal. The sound effects are crisp and clear with the caller easily understood.
In the rooms you can talk to other players, ask questions with our chat moderators, play games to earn loyalty points, send gifts to other players and ultimately meet and make new friends.